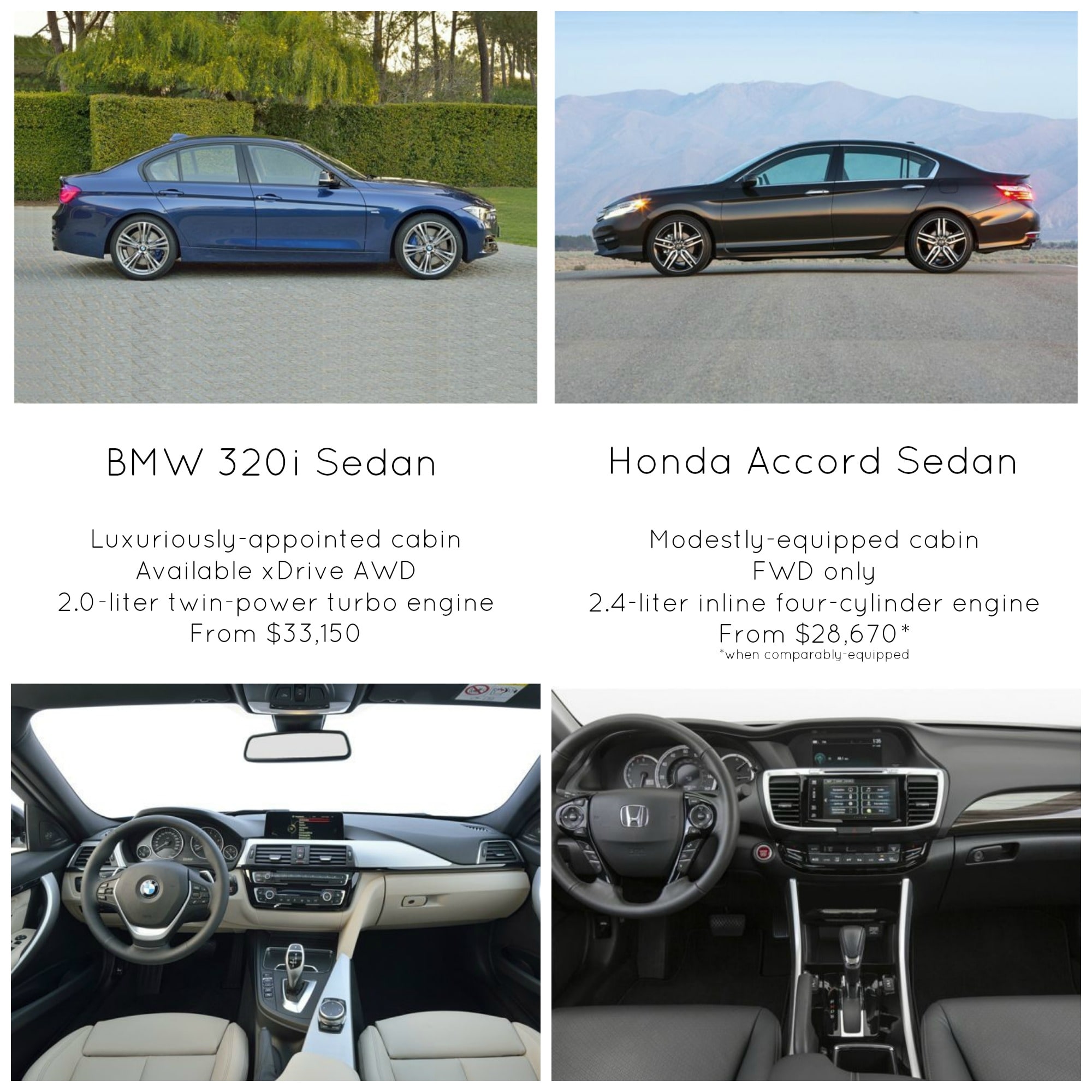 Two surprising competitors square up
Traditionally, vehicle comparisons follow a general courtesy of staying within a limited class or segment. After all, pitting a full-size luxury sedan against a compact economy sedan isn't a very fair fight.
But the new BMW 320i offers such a stellar value, performance, and temperament for the price that it's pushing out of its conventional class, and going head-to-head with any other sedan that it can stare down.
So, let's compare the 2016 BMW 320i sedan vs the Honda Accord; you may find yourself thinking twice about settling for an economy sedan.
Both offer a streamlined style and a variety of available body styles within the greater model lineup; but the Accord simply can't compete with the iconic design and opulent interior standards of the BMW 3 Series. From its trademark kidney grille at the front to the curve of the Hofmeister kink at the C-pillar, there's no sight quite like the 320i.
But that's because there's nothing on the road quite like the 320i.
The Accord's standard 2.4-liter four-cylinder engine offers comparable horsepower output, but the BMW 320i's twin-turbo dominates in torque, boasting 200 pound-feet to the Accord's 181 pound-feet of torque. Honda's sedan offers only a front-wheel-drive system on its models; the practical and sporty BMW 320i xDrive comes standard with capable all-wheel drive.
If you're looking for an attractive, well-equipped, and durable midsize sedan, you could buy a Honda Accord.
Or, you could upgrade. Think about it.